Terms of Sale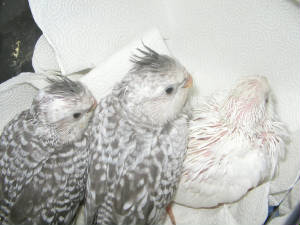 Unweaned babies will be not be released from TameTiels Aviary of VA, no exceptions. Please do not ask to buy babies out of the nest. Newly-weaned babies will stay here until one week after refusing handfeeding to be sure they do not regress.

Birds with a closed, traceable leg band are sold with a 72-hour health guarantee against untreatable bacterial or viral illness. Refunds/exchanges are only made if the following conditions are met: 1) The bird undergoes a thorough examination by a certified Avian Vet, 2) The Seller is supplied with a copy of the examination results, including blood work, tissue, fecal and other culture results (gram stains, etc), 3) Each bird acquired from TameTiels is quarantined for no less than 90 days in an air space separate from the Buyer's other birds, 4) Should the bird acquired from TameTiels die within the 72-hour period, the bird must be refrigerated immediately. Do NOT freeze the bird, it will render necropsy impossible. It must then be taken to an Avian Vet for necropsy. If warranted by the necropsy results and/or suggested by my Vet, the tissues must be submitted for histopathological testing. All results must be provided to my Avian-certified Vet, Dr. William Olkowski. Refunds/exchanges will not be offered unless my Vet believes the bird was ill/infected at the time of delivery to the Buyer.

In order to hold bird(s), a deposit no less than 50% of the TOTAL sales price, excluding shipping, must be received within 7 days of the verbal or e-mailed request to hold. If payment is not received within the 7 day time period, the bird(s) will be released from the verbal agreement and placed back on the sales list.

Deposits are non-refundable (unless Seller cancels the deal) and will be accepted via PayPal, Credit Card (through PayPal), Postal Money Order, or Personal Check. When paying by Personal Check, bird(s) will not be released until the check has cleared my bank. If paying via PayPal, add 3% to the TOTAL sales price in order to cover transaction fees. Note: Shipping fees will be invoiced separately from the birds as transportation costs may vary according to fuel costs and other variables.

Once a deposit has been received, payment-in-full must be received within 30 days, otherwise the sale will be considered cancelled and the birds will be placed back on the Sales List. Unless prior arrangements have been made by the Seller, birds will not be held longer than 30 days unless the deposit is on birds still being handfed.

No birds will be shipped without full payment being received. Buyer is responsible for all shipping costs, including, but not limited to: crate, health certificate, air travel tickets/fees and in some cases, round trip gas mileage to outlying airports.

Copyright 2000-2012 TameTiels (TM) Aviary of VA. All rights reserved. No text, photos, graphics, artwork or otherwise can be used from this site without the expressed consent of Sherri A. Lewis (aka Sherri Inskeep-Lewis).